A Roundtable Discussion with the President and Vice Presidents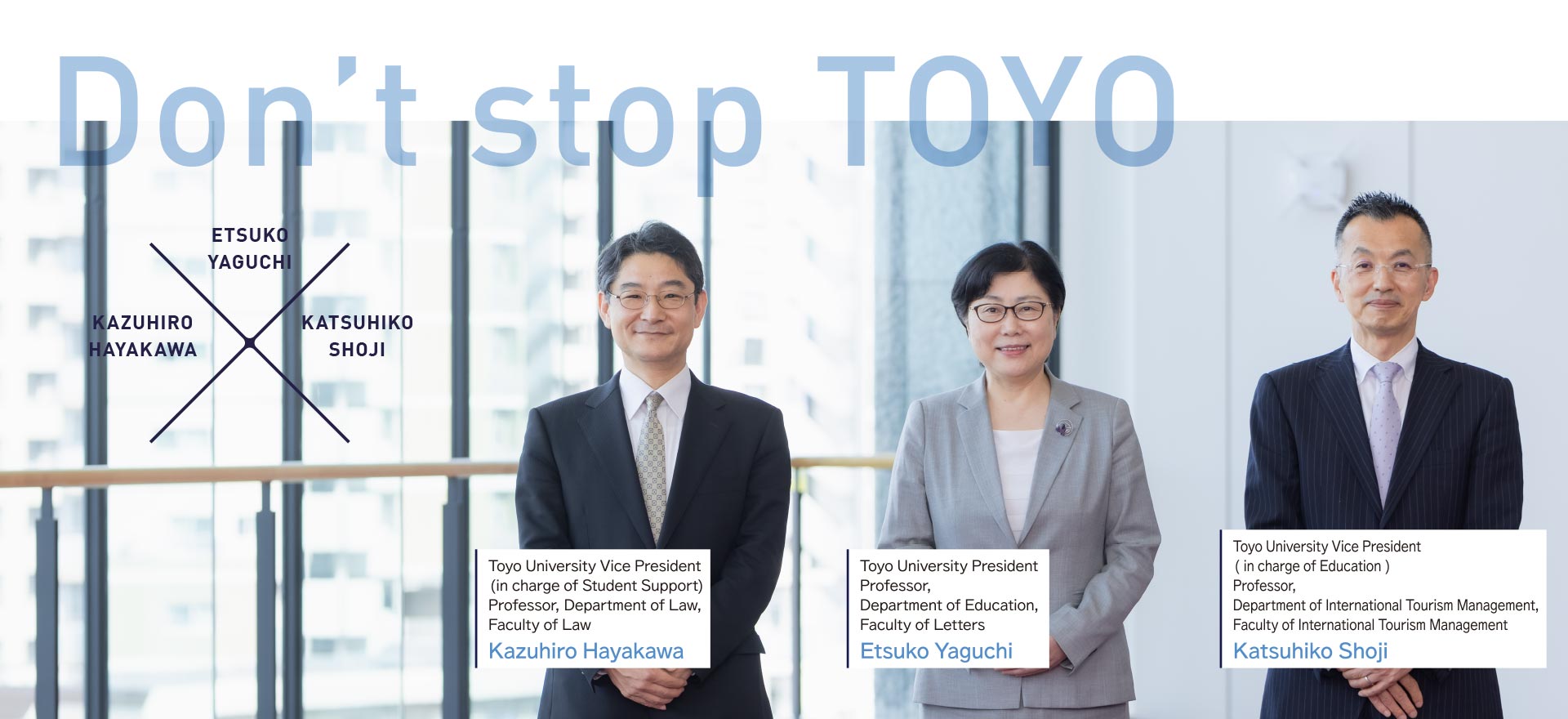 Toyo University's COVID-19 Countermeasures
In 2020, a state of emergency caused by the novel coronavirus was declared right before the spring semester begun. Until today, Toyo University has implemented various responses and countermeasures. The President and Vice Presidents will report on this matter.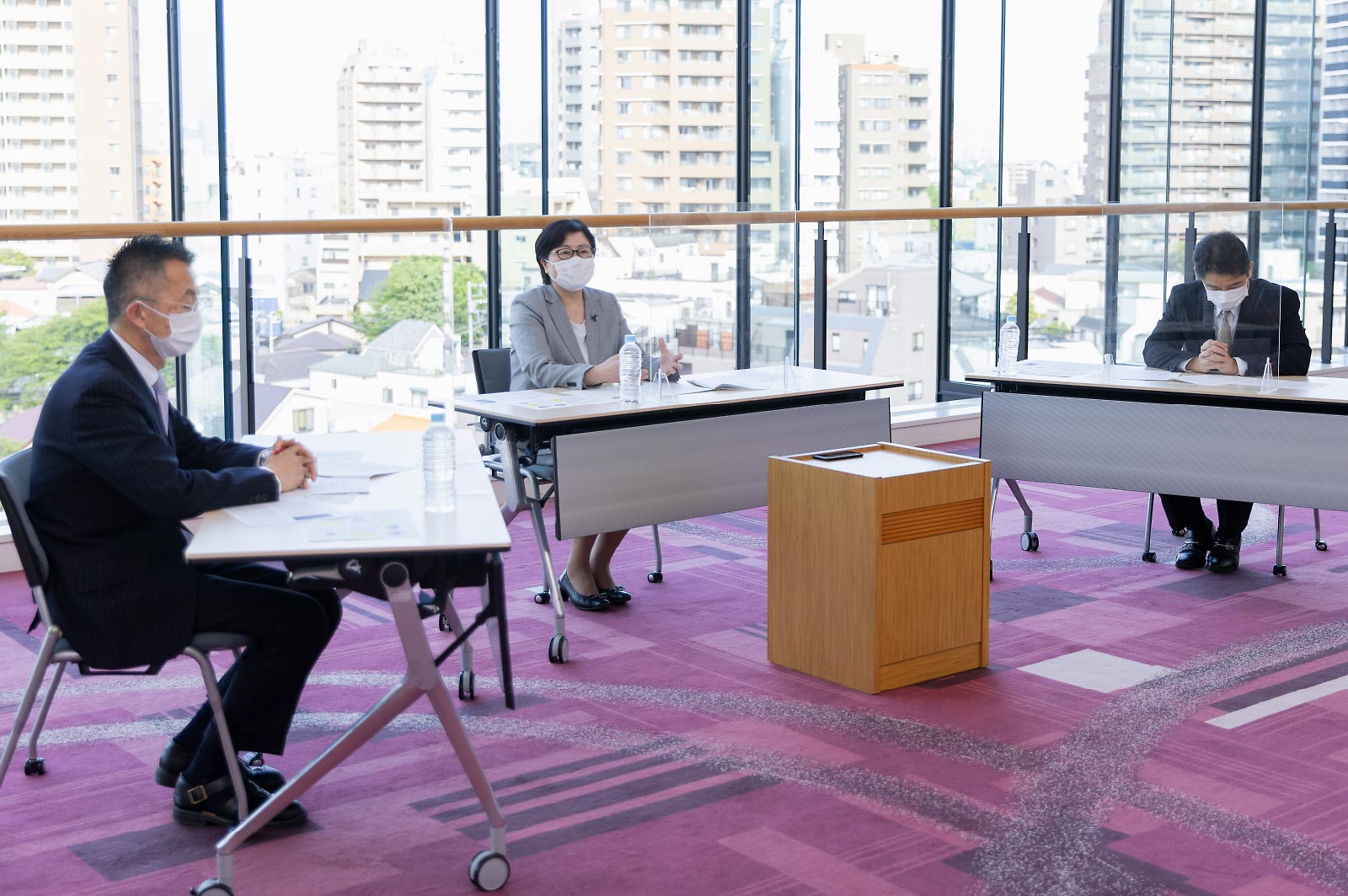 Don't stop learning.
Don't leave anyone behind.
Protect the safety of students and faculty members.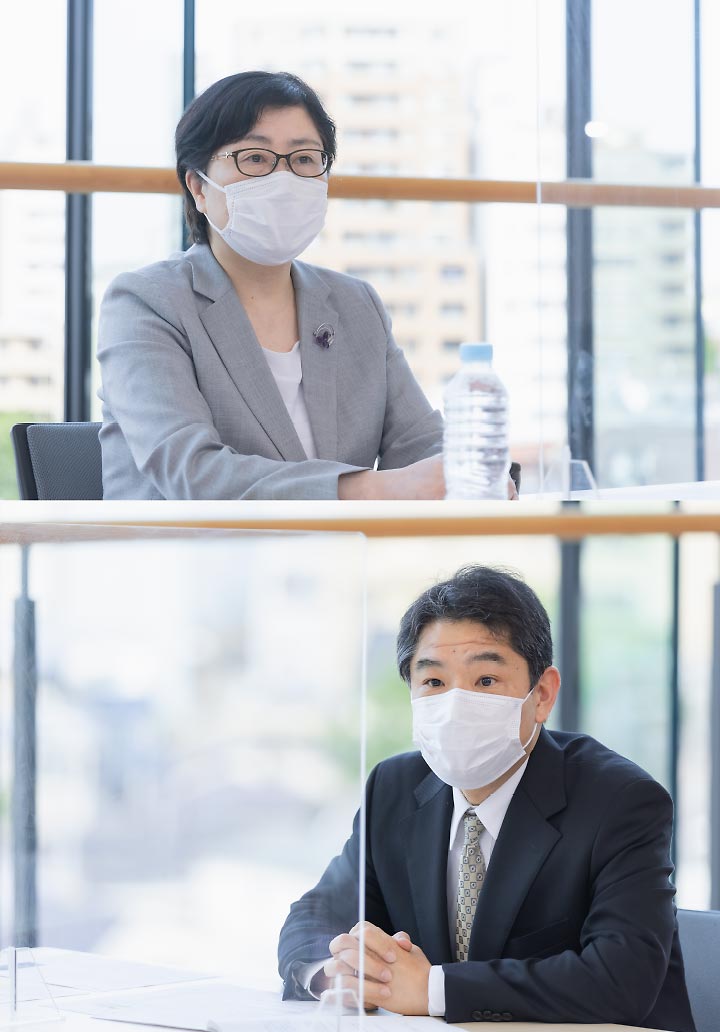 Yaguchi

In February 2020, a response to COVD-19 became necessary. It was before I was assigned as president, but I began preparations together with former president Takemura.
From that time, I felt that the situation would not come to an end quickly and that a prolonged university-wide response would be necessary. That is why we started the "COVID-19 Countermeasure Committee" in April as a place for prompt university-wide considerations.
Under such circumstances, we quickly established the three basic principles, 1: Do not stop learning, 2: Do not leave anyone behind, and 3: Fear appropriately and protect the safety of students and faculty members. This stance has not changed to this day.

Shoji

The AY2020 spring semester was an unprecedented experience. With the true nature of the virus unclear, when could we restart classes? Even if we could start, how would classes be taught? What would be needed to prepare for that? What type of classes would facilitate university learning? We needed to create guidelines straight away and put them into operation.
In these circumstances, the fact we were able to start classes in the spring somehow was thanks to the efforts of the faculty and the support of each secretariat. It is fair to say that we overcame the spring semester thanks to the harmonious cooperation between teaching and administrative staff.

Hayakawa

To be honest, our office where we manage student life and health was also in a fluster. Even if students don't come to school, their student life continues and they have to pay academic fees. Students had to prepare online devices, and as early-stage support, we provided all students with a 50,000 yen "Special Learning Grant." It was an unprecedented challenge, but we addressed the issue by forming a team of 100 staff. We also consulted with the Educational Institution and extended the payment deadline so that no students would have to withdraw due to not paying academic fees. There was no significant difference in the number of student withdrawals compared to previous years. That being said, the situation was constantly changing. We established systems to not leave students behind by creating a unique Toyo University special grant-type scholarship to support students with financial difficulties due to sudden changes to family finances.

Yaguchi

The special scholarship was funded by donations from alumni. I hear that we received four times the contributions of the previous year. I am very grateful, thank you.

Hayakawa

Regarding job hunting, companies stopped holding in-person interviews, and uncertainty about what to do spread amongst the students. At the Career Development and Placement Section, we responded by having reservation-only online consultations and interview training. There was a reduction in the number of job postings for the aviation and tourism industries, and I was concerned about students who wanted to work in these industries. However, the employment rate has remained relatively stable.
Also, "Hands to Hands" distributed goods, groceries, and rice for students who were having trouble with their daily lives. It was the first time running the project at all campuses, and it was a great success.

Shoji

Students who received support left short comments at the Center for Social Contribution, each one was full of gratitude, and some really struck me.
Turning COVID-19 experiences into new learning.
The next generation of Toyo University is coming up.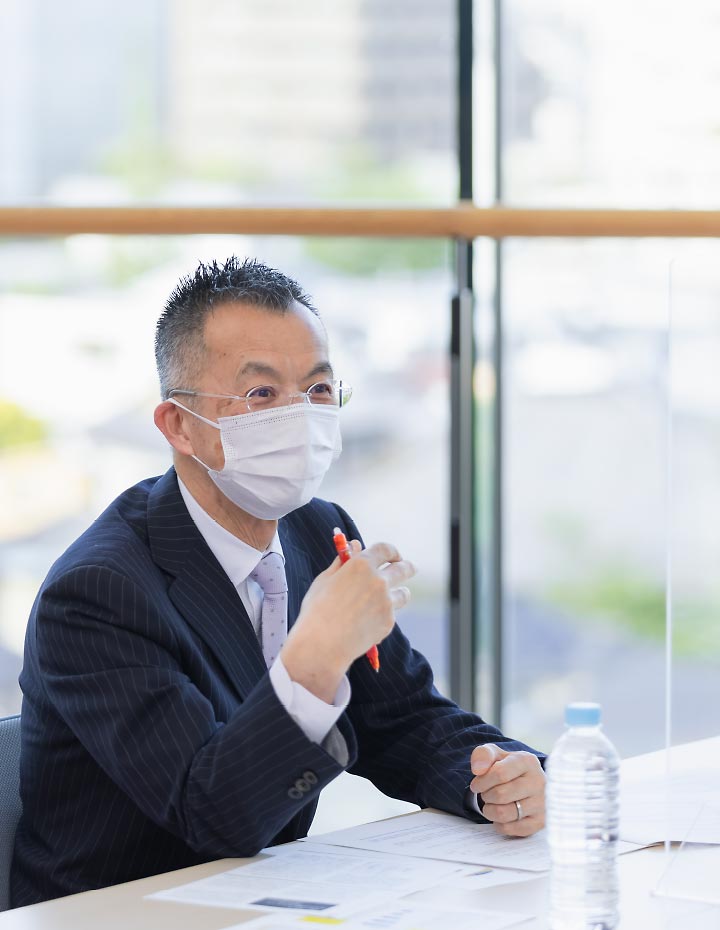 Yaguchi

While implementing COVID-19 countermeasures, the term "All Toyo" came up many times. "Are there any students who are in trouble?" was our watchword, and giving it our all towards the goal of the continuation of learning amidst a challenging situation was a valuable experience. Initially, there were many reports that the university was closed so that students could not get in. However, this was not the case. We set up infrastructure to stream classes live and maintained the facilities so that students could come back at any time. Also, at Hakusan alone, we stuck 24,000 different QR codes on all classrooms' seats so that we could track student's movement. In-person classes on campus started from the fall semester, and many students who came to the university became aware of the university's efforts and expressed their gratitude. The students are also supporting the university, and a culture of supporting one another has come to life. We are the center of the university, but we act as if we are one member. I think the fact that we were able to see in a new academic year while we are beginning to see the true meaning of "All Toyo" has been a vital experience for us.

Hayakawa

I would like to inform the alumni readers about students participating in clubs and student organizations. We implemented stricter COVID-19 regulations than other universities, so this prolonged the period where students could not train as they wanted. Despite this, students were able to produce results. We finished in an overall third place in the Hakone Ekiden. I was delighted. If they would have had a poor performance, I would have blamed myself for restricting their activities. I want Toyo alumni to be proud of your juniors who produced results with self-discipline amidst a challenging situation.

Yaguchi

Many students and alumni at Toyo University are aiming for the Olympic and Paralympic Games. These athletes have also been training under strict restrictions. Over ten athletes have achieved the massive feat of claiming their place at the Olympic and Paralympic Games in this difficult situation. It is outstanding.

Shoji

Like the phrase "out of disaster springs fortune," there were many benefits to remote-learning classes used during COVID-19, and we gained new insights to rethink university education fundamentally. That being said, it is crucial to acquire the tacit knowledge and practical knowledge that can be obtained from student-to-student and student-to-teacher interactions during in-person classes. Based on this concept, I am promoting the DX (digital transformation) plan with Yaguchi.

Yaguchi

Toyo University was chosen as a DX school by the Ministry of Education, Culture, Sports, Science and Technology in March. This is an initiative to educate more effectively by utilizing ICT and spend time on more essential activities. It is also about ensuring that each student is properly confronting the path of learning. We will actively engage in the areas where ICT can reduce waste, and we want to support the rich learning of approximately 30,000 people, placing importance on what can be done as a living human being.