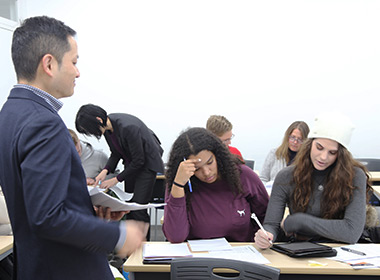 Toyo University is home to 14 faculties comprising 48 departments and 15 graduate schools comprising 36 courses. Now more than 1,400 international degree-seeking students learn at Toyo University.
In addition to courses taught in Japanese, students can take courses in other languages. In particular, the number of classes taught in English has been increasing year by year and there are 1,692 courses (564 of which are for graduate students) offered in English (in Academic Year 2022).
Further Information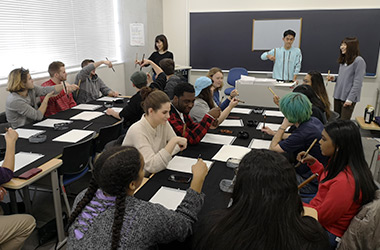 Short-Term Programs allow students to examine Japanese culture and society, comparing traditional and modern, as well as urban and rural Japan. Some programs also offer an opportunity to learn about the unique and dynamic business world of Tokyo.
The Short-Term Programs offer an unforgettable combination of classroom activities, field trips, and experiential learning,
including a homestay in the rural countryside. Since 2020, online short programs are also available.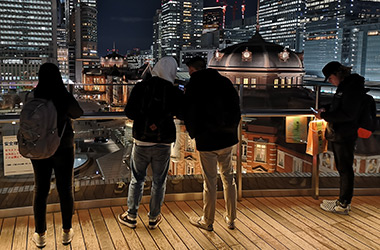 Online Short-term Programs:Summer&Winter
Toyo online short-term programs offer Japanese language classes for beginners covering listening, speaking, reading and writing components, as well as interactive Japanese classes with Toyo students. These programs offer a great opportunity to learn the basic knowledge of the Japanese language and culture and to cultivate new networking connections.We deliver these two-weeks programs twice a year, for beginner level in August and January.
---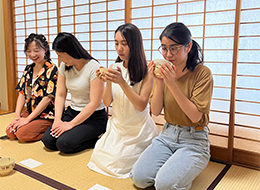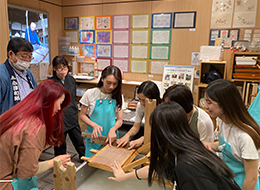 Customized Programs
On top of the Toyo online short-term programs, we also arrange a bespoke program, in-person or online, featuring contents in both English and Japanese. Contents of the program can be arranged flexibly so that it can meet your needs and interests (see below for an example itinerary). Toyo students will also participate in Japanese language classes as assistants and join some fieldwork activities.
The program fee varies depending on the number of participants, length of the program, and activities involved.. Please contact us directly at mltsp@toyo.jp for further questions.
Example
| | |
| --- | --- |
| | Japanese culture, Japanese language, etc |
| | Japanese calligraphy, Tea ceremony, Sumo, Paper-making |
| | Asakusa, Akihabara, Tokyo Sky tree, Japanese gardens, etc. |
| | Company visits, homestay outside Tokyo, etc. |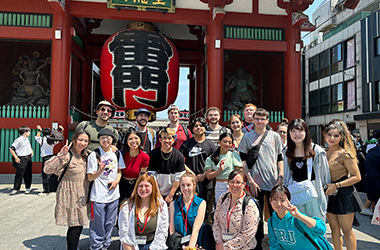 Contact : mltsp@toyo.jp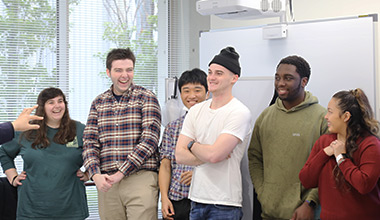 When international students study at Toyo University, they don't just make friends with students from Japan. They make friends with students from around the world. Each year, the size and diversity of Toyo's international study abroad body increases, thanks in part to the high student satisfaction and overwhelming positive recommendations from our alumni. International students will have opportunities to participate in various cultural activities and events. By studying abroad at Toyo University, they can join a unique global network of bright and talented international students.
Incoming Study Abroad Students by Year

(2016-2022)
Country Share

(2022)
Further Information
One Year Study in Toyo long ver.
NEST is based on the Common European Framework of Reference for Languages (CEFR) and has classes ranging from level 1 (beginner level)to level 4 (B1 levels of CEFR). We have established "theory" and "practice" classes to steadily improve Japanese language skills. We also offer skill-based courses such as reading and listening, as well as active classes that enable students to learn about Japanese culture and Japanese society, to suit the diverse, individual objectives and needs of international students.
Level Standards
For students with no background in Japanese language.
Approx. A1-1(CEFR)
For students who are able to use and understand minimal Japanese language.
Approx. A1-2(CEFR)
For students with upper elementary-level background in Japanese language.
Approx. A2(CEFR)
For students with Pre-Intermediate-level background in Japanese language.
Approx. B1(CEFR)
Further Information
Toyo University offers several extracurricular courses suited to various levels and goals.
All courses are free for students of Toyo University.
Academic Japanese Beginner Courses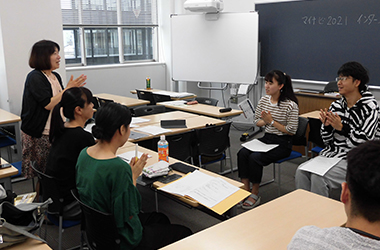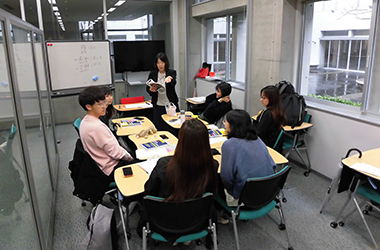 Japanese STEP UP Courses
We offer 15 programs for various purposes, including conversation,
grammar, JLPT test preparation, and job search, from beginner to advanced level in small batches of 10 or fewer students.
Japanese Writing Programs
We offer one-to-one lessons that focus on "writing," from beginner to advanced level, following a Toyo University original curriculum.
---
Business Japanese Courses
BJT (Business Japanese Proficiency Test) Preparation Courses
Practical courses of 90 minutes x 8 sessions aiming to increase BJT test scores.
Business Japanese Special Courses & Advanced Courses
There are 14 special courses and 6 advanced courses to select from.
Students can learn business japanese and skills from experts in various fields.
Business Japanese (on-demand) Courses
We currently offer 3 courses, "Introduction to Business Japanese," "Preparation Course for BJT Business Japanese Proficiency Test," "Business Japanese Teaching."
Students are free to make their own course plan and take courses any time within the period.
Lounched by Toyo University in 2021 Fall, the "Online Collaborative Education in Asia and the Pacific (SDGs Online Cross-Registration: Online Exchange Program (OEP) )" is an online interdisciplinary program that allows students to take courses offered by UMAP member universities and partner universities. The courses are develped around the theme of SDGs and taughted in English. Tuition will be waived on the principle of reciprocity.
Students of UMAP member universities and partner universities
2 to 15 weeks

[

Application period and List of courses offered

]

from the link below
Further Information
---
About UMAP
UMAP (University Mobility in Asia and the Pacific) is an association of government and non-government representatives of the higher education sector in the Asia-Pacific region. Over the past 25 years, UMAP has distinguished itself as the top facilitator of student mobility and collaboration among universities in the Asia-Pacific region. UMAP's mission is to enhance international understanding through increased mobility of university students and staff among the countries and territories of the region.
Toyo University served a five-year tenure as International Secretariat of UMAP from 2016 to 2020. Toyo continues to further promoting educational mobility throughout the Asia-Pacific region.